A FAITHFUL RECREATION ON AN ICON
The monocompax design, small running indicator, and the patented multiple dive decompression bezel table make the Deepstar an unmatched diver-oriented tool with an instantly recognizable design.
Distinctive in appearance, robust in build, and innovative in its function, quickly became the favorite of both sport and technical divers alike. Great divers wore the Deepstar during their groundbreaking Conshelf II and III undersea habitat experiments and the watch was seen on the wrists of legendary ship crews for the better part of a decade. The great French freediver who set the world record in free diving twice, also wore a Deepstar when he dove to a record 75 meters on a single breath in 1968 and it was a favorite of his throughout the 1960s. Aquastar was the watch of serious divers, and the Deepstar was its jewel.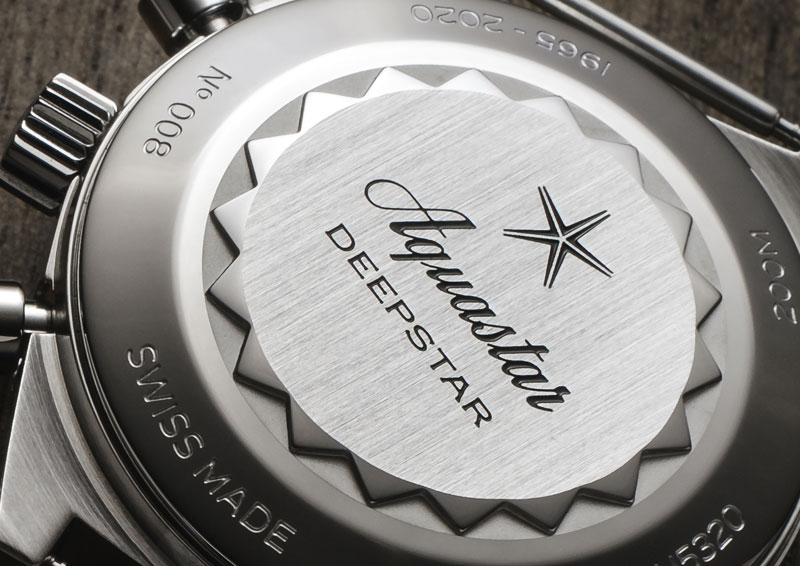 The radial finishing of its Blue Ray, Steel Grey, or Vintage Black dial, the polished applied markers, the oversized 30-minute counter, and of course, its dual scale rotating bezel. Inside ticks a manufacture column wheel chronograph caliber developed for Aquastar by Swiss movement specialists at La Joux-Perret. The watch comes fitted on a 22-millimeter genuine TROPIC rubber strap, with a second handmade shell cordovan band, both with Aquastar-signed buckles.
Diver, Innovator, Disruptor
Aquastar was founded in 1962 in the city of Geneva in Switzerland by Mr. Frédéric Robert.  Mr. Robert, a diver, a sailor, a pilot, a watchmaker, a mathematician. He also represented Switzerland at the 1948 yachting world championship.
With extensive experience on the high seas, Robert set out to start a watch company that focused on developing watches, watch parts, and specialized instruments exclusively for underwater activities, ranging from sport diving to professional scientific excursions and underwater exploration, with the ultimate goal of making all diving exploits safer. It was November 1962 when Robert renamed his father's company JeanRichard™ company to "Aquastar," and it was here, where an entirely new underwater legacy was born. 
Aquastar marked the first time in the Swiss watchmaking world where a company was dedicated to producing professional-grade watches and timing instruments in a single market segment. And with a catalog that quickly grew into dive watches and other aquatic tools like dive compasses, depth gauges, and thermometers – all of which could be fit onto watch straps, Aquastar's mission soon became quite a unique one at the time for a Swiss horology Maison.
It was during this time that Mr. F. Robert distributed his range of diving instruments under the new name "Aquastar" almost exclusively through specialized stores instead of regular retailers. Given the socioeconomic environment of the times, this non-traditional sales tactic seemed risky at first, but it reflected Robert's innovative approach to problem solving – a trait that would reflect in his many patented designs, as well as the backbone that would define the brand's disruptive legacy many years later.
In the picture below you see one of the first timepieces created by F. Robert in 1958, a water-resistant watch with a stop watch function, the "AQUASTART"
Vintage Aquastart by "Jean Richard" from 1962